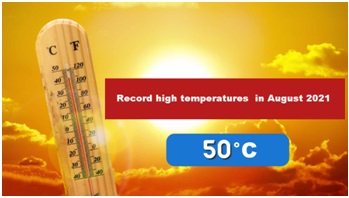 August 2021 is the hottest on record since 1950
    The month of August 2021 was marked by a significant rise in temperatures in all regions and Tunisia was affected by extreme heat waves that it had never seen before. During this wave several regions broke their absolute records.
    The average temperature across Tunisia of 31.54 ° C was (+2.99)°C above normal (28.55 ° C). This gap ranks August this year as the the hottest month ever in the months of August since 1950.
    With regard to precipitation, Tunisia witnessed during August 2021 a decrease in rainfall by 67%.  The total for the month was 97 mm, while the normal for the same stations 223 mm which represents 43% .