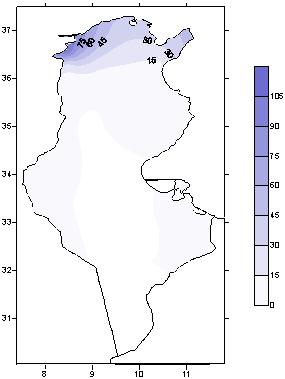 Monthly Climate Report_January 2021 in Tunisia
3rd warmest January and 6th driest since 1970
     January 2021 was marked by a noticeable decrease in the amounts of rain in most regions of the country (24 main stations). The monthly total was less than the reference average and reached 350.8 millimeters, while the reference rate for the same stations was 1161.1 millimeters.
     The deficit across all regions was 70 % which ranked January 2021 as the sixth dryest January since 1970.
    Concerning the temperature, it was high in all regions, new records were broken at several stations. The average general temperature for the month exceeded the reference normal (1981-2010) with a deviation of (+ 1.8) °C and this difference is considered significant, which ranks January 2021 as the third warmest month since 1970.
Monthly Climate Report_January 2021 in Tunisia